You know what happened as soon as I finish my December Daily 2012? I was a burnt out camper and didn't want to touch my stash or look at my blog… so I didn't. It was a pretty big project I guess a break was in order. I've recouped (I've even touched my stash!), and I'm ready for 2013.
So, what's new? Let me to you…
I'm excited about LOAD 2013!
I'm all signed up and ready to go! I got so much accomplished last year when I did LOAD, I couldn't pass it up. Feel free to join in… 28 days of scrapping! Wondering why over 300 people have already signed up to join us for February? You can find out all about this life-changing event here. AND if you use code FUN at checkout, you can save $10 (but only through 1/7). Join in the fun: sign up today!
New Product in the House
I'm loving the new Thinlits from Sizzix. The package is ingenious. Each set comes with its own storage envelope.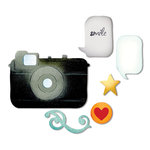 How cute are these new sets? You can check them all out at Scrapbook.com... just search for "Thinlits."
Getting Crafty with new Pop `n Cuts
I'm making CHA samples for the fabulous Karen Burniston. She's got an awesome release coming and I can't wait to share. Lots of new stuff. LOTS. You're going to love it.
You're Life… Inspired
My friend Monica Bradford has a new class coming out called Your Life… Inspired that runs from January 18-31, 2013. Be sure to check out this two week class with daily emails, original layouts and videos, and lots of inspiration.
Live Your Life On Purpose
Be sure to sign up for the January FREE scrapinar! The scrapinars are always amazing and I get a lot out of them. Even if you can't make it, there's normally a replay that runs for a short time after be sure to check it out and sign up.
Enjoying My Kindle
I'm rereading The Hunger Games. My Goodreads list is out of control and I've challenged myself to read 40 books this year. Thank goodness I can get Kindle books from the library or I'd go broke!
And Today
I'm working on a new Sizzix tutorial. It will be for January 18th on the Sizzix blog. Busy! Busy! At some point and time I'll need to deal with laundry too… it's all very glamorous. ha.
Happy 2013 everyone! I hope you have an incredible year!