I've got some great news to share - if you weren't able to take part in True Scrap 3 you can now purchase each class individually to create your own custom event! Purchase only the classes you want. Get immediate access to over 20 hours of video instruction. Watch from the comfort of your own home! And at $12.95 $9.99 each for a limited time, these are a STEAL!!! Click the banner below (or the one in the sidebar) to pick and choose classes from your favorite instructors.
The $9.99 is a special release price good through July 7, 2012. On July 8, these classes will return to the regular price of $12.95 each (still a great bargain!)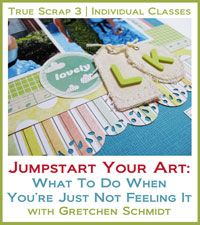 Jumpstart Your Art: Do you ever go into your creative space to make a layout and hear crickets in the background because you just don't where to start? It feels like creative paralysis – the mojo has left the building. We've all been there! Gretchen's got some fun projects, creative ideas, and tips to help get you back on track when you're just not feeling it. She'll provide plenty of examples to help you jumpstart your creativity and get back into the scrapbooking groove in no time.
To purchase my class or any of the awesome classes offered, just click on one of the banners or this link and you can take as few or as many as you want. Enjoy!
Kit N` Kaboodle: Gorgeous Kits From Your Stash
Today's the day! My FREE scrapinar is tonight so if you haven't already signed up, please so. The more the merrier! And if you can't make it tonight – no worries. You'll be able to catch it on replay but you have to pre-register. Sign up now!