I recently did an interview with fellow True Scrap 3 teacher Melissa Shanhun at Digital Scrapbooking HQ about my True Scrap 3 class: Jumpstart Your Art. If you want to hear a little bit more about me and my class, I invite you to listen to the audio interview (the link will open in a new window):
Interview at Digital Scrapbooking HQ
Thank you so much to Melissa, it was fun to do! And thanks to modern technology, I got to Skype with someone in Australia – that was super cool! You can check out Digital Scrapbooking HQ for the full interview.
Learn More about Melissa and Digital Scrapbooking HG
Register for True Scrap 3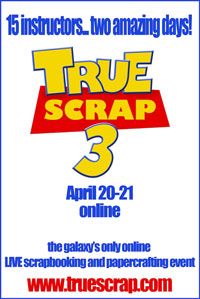 Full admission to all 15 classes (live!)
Replays to all classes if you can't make it to every class
Five virtual make-n-take project videos
All for the low price of $127! Save $20 by registering before 3/31! (Price will increase on 4/1 to $147)
I hope you enjoy the interview!